Singapore Covid Resilience
15 July 2020 – Despite no new major project launches, new private home sales in Singapore rebounded strongly in June 2020, surging by about 105% to 998 units (excluding Executive Condos) from the 487 units transacted in the previous month. Notably, this is the highest new home sales in the month of June since 1,806 units were sold in June 2013. It is also the highest monthly figure since November 2019, where 1,165 new homes were transacted.

New home sales posted the second consecutive monthly increase in June 2020 – albeit from the low base in May – and it continues to indicate a firm underlying demand for affordably priced homes, notwithstanding the challenging economic outlook due to the COVID-19 pandemic.

On a year-on-year basis, last month's new home sales of 998 units were 22% higher than the 821 units sold in June 2019, which saw four projects being launched then: Sky Everton; Lattice One; Sloane Residences; and Seraya Residences.

Ismail Gafoor, CEO of PropNex, said, "The market took a breather in April and May due to the circuit breaker but sales activity is picking up gradually. As the economy re-opens, we are seeing buyers coming back to take up units – cognizant of the fact that it is a buyer's market and that units are more attractively priced. Amid concerns about the economic downturn and jobs, there are still genuine buyers out there – with ample liquidity – who are taking advantage of the low interest rates to purchase well-priced units."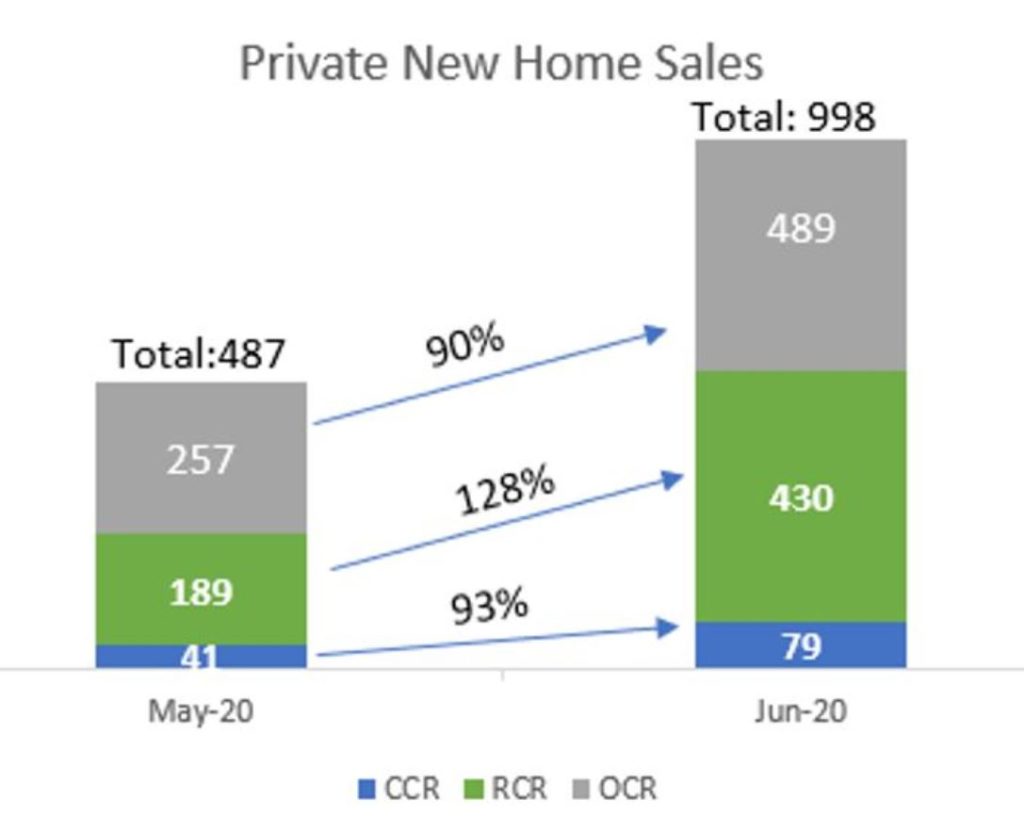 The increase in sales in June was largely driven by mass market homes in the Outside Central Region, supported by the upgrader and owner occupier demand. Projects such as Treasure At Tampines, Parc Clematis, and The Florence Residences continued to move units at a steady clip, owing to their sensitive pricing. These three projects accounted for over 28% of the total sales in June and were among the top 10 best-selling private residential projects last month.
Wong Siew Ying, Head of Research and Content at PropNex, said, "Typically, new home sales tend to be supply-led, with new launches propping up transactions and prices. The fact that June's sales outperformed expectations amid a dearth of new major project launches is perhaps a sign of cautious confidence in the property market, as people adjust to new norms and market realities. This is the best monthly sales since November 2019 and it offers some hope for a more sustained sales momentum over the rest of the year, as developers roll out new developments for sale."
By price quantum, Realis data showed that 86% of new units sold in June were $2 million and under, compared with 96% in May. PropNex expects the $2 million and below pricing brackets to remain the sweet spot, as buyers continue to be value conscious. Meanwhile, new home sales of units priced above $2 million came in higher in June against May, possibly due to a larger number of bigger units being sold. In terms of size, units under 800 square foot were most popular, accounting for 55% of new sales in June.
Most developers were unable to launch new projects in recent months due to the measures implemented over the circuit breaker and Phase 1 period from 7 April to 18 June 2020. Last month, developers put 597 new units on the market – down from the 615 units launched in May 2020.
Q2 and 1H 2020 New Home Sales

Factoring June's data, developers have sold an estimated 1,762 new private homes in Q2 2020 – 25% off the pace of sales in Q2 2019. This took new home sales to 3,911 units in the first half of 2020 (1H 2020), representing a 7% decline from the corresponding period last year.
Ms. Wong noted, "Private home sales in Q2, when seen in the context of the pandemic and its massive impact on the economy and society, actually performed better than expected thanks to digital technology. Show flats were shut for most part of the quarter and we saw a large number of transactions being closed via digital tools and virtual tours – reflecting a certain degree of nimbleness in the market to adjust to the new normal. We expect technology to continue to play an important role in driving sales."
Mr. Ismail added, "In the scheme of things, given the unprecedented nature of this pandemic and the heightened level of uncertainty, we think the primary market held up fairly well and it remains resilient. With potential new launches still to come in the second half of the year, new home sales may find some support and reach 7,500 for the whole of 2020 – down from the 9,912 transactions in 2019."